Lessons from the manual, now on your wall where you can't miss them.
2023 New Testament Poster Pad
Keep Come, Follow Me top of mind with these weekly lessons on the New Testament for 2023. Continuing the legacy of Your House Press, the same design and content is now available in a new format. All 52 lessons are included in a single poster pad with perforation for easy transition from one week to the next! Each poster includes: (1) the lesson title and reading, in line with the Come, Follow Me curriculum for individuals and families, (2) three selected doctrines and the associated scriptures, and (3) prompts and questions for pondering and family discussion.
Print out the first few weeks at home!
PHYSICAL
80 gsm paper, perforated
17" x 23"
Black and white design + 2 colored pages for Easter and Christmas
Black trim and gold foil
Stiff grey board backing
Grommets for easy hanging
DIGITAL
PDF sent after order is placed
Formatted to 8.5 x 11", scalable if needed
Alternating black and white design or all white version
2 colored pages for Easter and Christmas included
Print at home or with your preferred local printer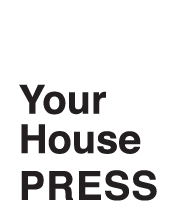 Your House Press joins the family!
We feel so honored to be trusted as the new home for these beautifully designed posters, formerly known as Your House Press. From the very beginning, we knew our missions would align beautifully—encouraging Christ-centered homes with no sacrifice of intentional and timeless design. This acquisition has also allowed us to introduce a new format that will make these even more accessible and affordable! Thank you for your continued support and love for these small businesses, we can't wait to see them in your homes!
In order to focus on the content of the posters, we've kept the design clean and simple. Following the thoughtful and bold designs by
Amanda Jane Jones,
the words of the lesson are all you'll see. The minimal design is sure to complement any space!
Say goodbye to the monthly subscription and hello to an entire year of lessons in one poster pad! No wondering when the next batch of posters will come in the mail and no replacing the posters every week. Your new favorite Sunday night activity might be tearing off the weekly lessons to get ready for the next!
Why change a good thing? One of our favorite parts of the Your House Press posters was the newspaper. We've kept the posters on a lightweight, ivory paper, reminiscent of the original newsprint! Enjoy the same look and feel in a more convenient package.